Back in 2014, the New York Police Department launched a social media initiative that at first glance seemed like a great way to improve community engagement. The law enforcement agency asked members of the public to tweet photos of themselves with NYPD officers using the hashtag #myNYPD.
Almost immediately, the initiative revealed one of the inherent risks of social media: you aren't really in control of how your campaign is used. Instead of simply posting pictures of themselves with friendly officers, some people used the hashtag to highlight what they viewed as a problem of police brutality within the NYPD.
"When you're going to launch a social media effort like this, it is very important to take a look at the community that you're going to be addressing and assess the potential pitfalls for something like this," commented Syracuse University Assistant Professor Anthony Rotolo at the time. "It's also important to build a rapport with your audience well in advance of calling on the crowd to weigh in as they did."
The New Reality of Social Media
To this day, citizens regularly include the #myNYPD hashtag when complaining about the department on Twitter. But the agency didn't backtrack on the campaign, stating that they wanted to create "an open forum for an uncensored exchange" that's "good for our city." And the NYPD was right in making this decision. As was mentioned in our article on fire departments and social media, simply avoiding social media altogether is not a good strategy. Why? Because even if public-sector entities stay off of popular social media platforms, the citizens they serve are still on there, so the best they can hope for is simply to remain ignorant of those nasty comments. In other words, it's inevitable that some people will groan and grumble about your agency on social media, so you may as well take part in the conversation and show that you're willing to engage.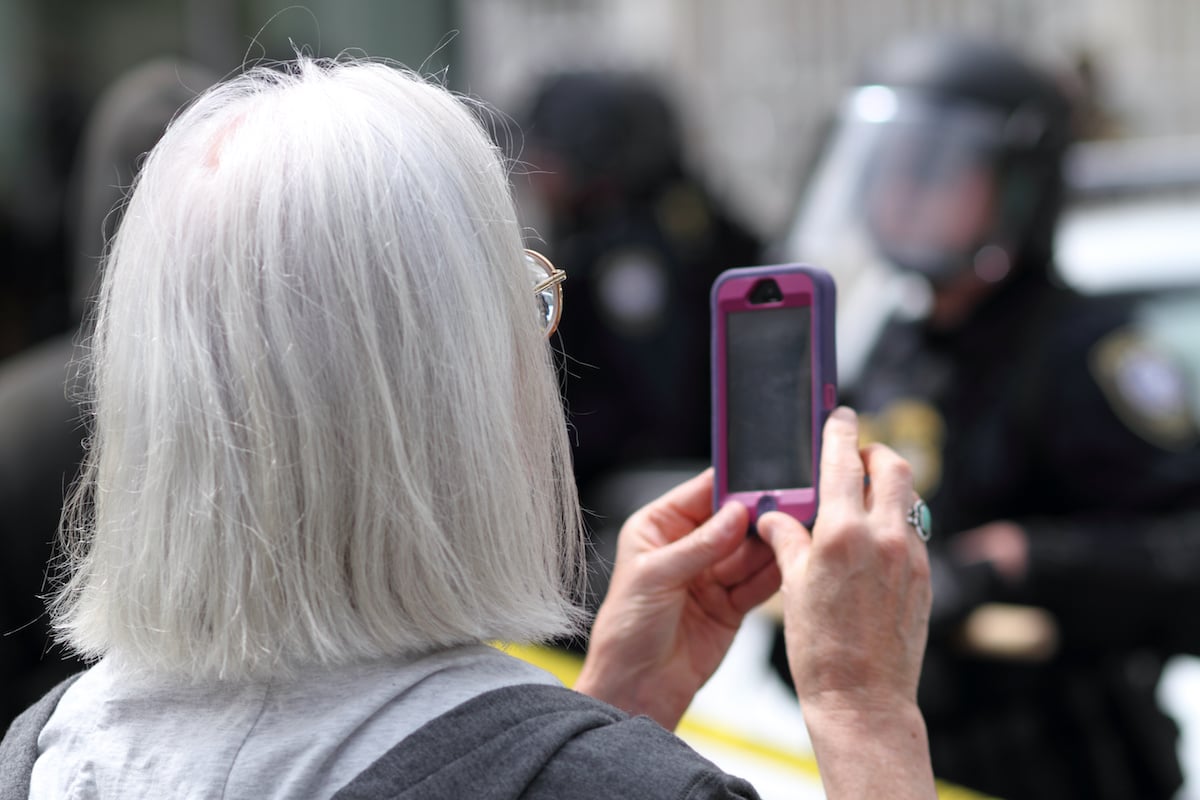 Far better than a head-in-the-sand solution is a strategic approach that takes all the social media risks into consideration and identifies ways to mitigate them. Yes, the NYPD was right in standing its ground and owning the #myNYPD hashtag, but if you're going to potentially be dealing with thousands of angry comments, it's best to have a communication plan in place beforehand. With that in mind, here are four steps law enforcement agencies should take in managing social media risk.
1. Be Open, Honest (and Human)
Social media success starts with the acceptance that it won't always be easy or comfortable. Spin, disingenuous statements, and typical PR speak won't work. Instead, law enforcement agencies need to be open, honest, and willing to engage the public in real conversation.
One good example is the Los Angeles Police Department (LAPD), which is using social media to increase openness and engagement.
"(LAPD) have made a large effort over the years to be more accountable and transparent to the public, especially in use of force instances, because those are the instances that are going to generate controversy," Jeff Gazzo, Director for the Regional Law Enforcement Agency Academy in Greeneville, says about the LAPD's use of social media.
This increased transparency has included posting body-cam and dash-cam footage on social media. "If it's a strategic and intelligent use of that video, it can be a very powerful thing for the public," Gazzo says.
Kaitlyn Perez of the Sarasota County Sheriff's Office shares a similar outlook on the National Police foundation's website. "More than ever these days, people want transparency out of their policing agencies. Here at the Sarasota County Sheriff's Office, we have found that being active on social media by showing the good – and the bad – is a great place to start.
"That means showcasing the outstanding work that our deputies do on a daily basis. Just recently, we posted a YouTube video and Facebook photos of a deputy helping to corral an alligator found in a citizen's swimming pool. The video went viral and recently passed 1.3 million views.
"It also means showing the negative, which is best done by owning the negative. While we're lucky to have a strong, resilient workforce of nearly 1,000 people, in January, we arrested one of our deputies for attempted murder. We didn't hide behind closed doors and wait for it to go away. We chose instead to live stream a press conference and film our Sheriff escorting the deputy to our jail. It was a message of accountability and ownership, which as you can guess, comes from high up in our organization: Sheriff Tom Knight."
But it's not just about transparency; agencies like the LAPD is also willing to show the human side of its officers. While official messages and updates are obviously shared on accounts, some fun and informal content is also posted on a regular basis.
You know it's going to be a good dance battle when the first move out of the gate is the robot...

Who won? It's hard for us to be impartial, so we'll just say those who saw it in person at today's #MLKDay Parade pic.twitter.com/DPx4YMH6YL

— LAPD HQ (@LAPDHQ) January 21, 2020
Empowering officers to engage with the public on social media and letting their personalities shine through can be understandably intimidating for some agencies—and there's no doubt that it introduces a certain amount of risk. But any agency that doesn't do it is missing out on one of the biggest advantages of social media. Check out the video below for one police officer's (brutally honest) perspective on the use of social media.
2. Create Social Media Policies & Guidelines
As Mike the Cop mentions in the video above, many law enforcement agencies still don't have a social media policy. For those looking to leverage these platforms while mitigating risk, a comprehensive policy should be a priority.
Ashlin Oglesby-Neal and Chloe Warnberg of the Justice Policy Center at the Urban Institute writes the following: "It is critical for agencies to develop and implement a foundational social media policy in order to most effectively reap the benefits associated with social media use—like increased community trust and support—and mitigate unnecessary risks—such as a breach of confidence. Fortunately, a number of resources exist to guide agencies in the development of their policies. (All the resources included in this brief, along with summaries and links to the original sources, can be found in the appendix). The International Association of Chiefs of Police (IACP) has published five key policy considerations that every agency should contemplate when creating a social media policy. These considerations include identifying the scope of the policy; outlining guidance on official use; outlining guidance on personal use; addressing relevant legal issues; and referencing related policies already in place."
Oglesby-Neal and Warnberg looked at 70 law enforcement social media policies and found the following to be the most common topics covered in them:
Definitions of social media and key terms
The type of content allowed on social media
Who is in charge of managing official social media use
What is acceptable professional use
What is acceptable personal use
The approval process for social media posts
Use of social media for investigations
Who is allowed to use social media
Recordkeeping and retention policies
It is also important to add that a policy should not only be about governing internal use of social media—it should also address what acceptable external use looks like. More than the average public-sector entity, law enforcement agencies are likely to encounter inappropriate comments that include things like profanity and threats of violence. What should an agency do when it discovers these comments on its official account? Most would choose to delete them, but that could lead to accusations that citizens' First Amendment rights are being infringed on. By explicitly stating what inappropriate comments look like, agencies provide themselves with additional protection when removing comments.
Read our blog post, 6 Social Media Policy Considerations for Government Agencies, to learn more about social media policy creation.
While a policy is crucial, it's not enough on its own. Staff members also need help in adopting these policies—and that means social media training.
"Training is an important aspect of effective social media practice, especially for officers tasked with representing the department online," writes Oglesby-Neal and Warnberg. "While some formal policies include general language on training, internal guidelines can provide further guidance on content and recipients of training. Agencies should also consider providing training on the department's social media policy once it is developed. Guidelines regarding training can be especially helpful for agencies looking to use social media to engage the community."
3. Have a Social Media Crisis Plan
As mentioned earlier, social media success means being willing to share both the good and the bad. And that means agencies will occasionally run into situations that need to be managed carefully on social media—so having some sort of crisis plan in place is important.
"What you say, how you say it, when you say it, and in what sequence you say it are all critical components that directly affect the ultimate success of your crisis management. Your primary [communication] should be on digital real estate that you own and control," writes Melissa Agnes. Agnes is an expert on risk management and crisis preparedness. She's written a very useful book on the topic titled Crisis Ready.
According to Agnes, a good crisis plan is all about the prioritization of people. There will be lots of questions and emotions, and agencies need to respond immediately. Good crisis management does the following:
Notify citizens of an event in a timely and transparent manner
Encourage two-way communication and validate people's emotions
Answer the most pertinent questions in a straightforward way
Be accountable and honest when a mistake has been made
Avoid blameshifting and statements that sound like they've been drafted by a room of lawyers
For an example of great crisis management, Agnes mentions the Mountain View Police Department.
"When I think 'crisis intelligence' I immediately think of the Mountain View Police Department in Silicon Valley. What this police department is doing to engage with their community on social media and how they've integrated social media as a core part of their crisis communications and emergency management plan is simply inspiring," says Agnes.
You can listen to her interview key members of the police department in The Crisis Intelligence Podcast. The full episode is embedded below.
4. Keep Accurate Social Media Records
As with other government organizations, law enforcement agencies are required to keep accurate records of all communications, including social media data. This information is subject to FOIA and Open Records laws, so records can be requested at any time. And given the nature of law enforcement communications, it's not unusual for a journalist to request all social media content related to an active-shooter situation or some other crisis.
With this in mind, agencies should put a recordkeeping solution in place that captures and preserves all content in a way that's easy to deliver to those who submit a records request. It's also important to have access to edited posts and deleted comments, since agencies should be able to show what's been changed or removed from its official pages.
Say, for instance, that a user makes a threat in a Facebook comment and then quickly deletes it. If they then act on that threat, the comment would become important evidence. But how would the deleted comment—regardless if it was removed by the agency or the user themself—be recovered? An automated social media archiving solution solves the problem.
Download our case study to learn how the Fort Worth Police Department moved from manual to automated archiving, ensuring that all edited posts and deleted comments are reliably captured.