Your organization is probably archiving company emails, but is it archiving mobile text messages?
When it comes to the business world, email remains an incredibly popular communication tool. In fact, the number of emails we send is astounding. Research conducted by The Radicati Group in 2018 reports the total number of emails sent globally every day at around 280 billion (that's billion per day), and it's set to grow to 333 billion by 2022.
As the numbers above suggest, most people are so overwhelmed by the amount of emails they receive that many do not get read. Open rates for emails from businesses to consumers, especially marketing ones, are notoriously low (around 25%)—and it's only getting worse.
Because of this, many companies have adopted another form of communication that is perceived as easier and more natural than email; welcome text messaging—and text messages are proving incredibly successful. Research by Seattle-based Flowroute has shown that consumers are far more receptive to mobile text messages than emails, with as much as 82% of people opening a message from a business within five minutes or less. Combine this with the facts that the majority of consumers spend more time texting than they do calling or answering emails, that 90% of people always have their phones close at hand, and that text messaging is the number one form of communication among Americans under 50, and the business case for text messaging becomes very clear.
Pagefreezer has created an information governance model that specifically addresses data from online sources such as websites, social media, collaboration tools, and mobile text messages. Click the button below to download the white paper.
But with more and more business being done via text messages, the need to capture and archive these communications is also becoming increasingly clear. Like social media, SMS can result in rapid-fire two-way communication that's particularly susceptible to data loss. What happens, for instance, if a conversation with a customer is deleted from an employee's mobile device? Does an easily-accessible copy of that interaction exist anywhere else?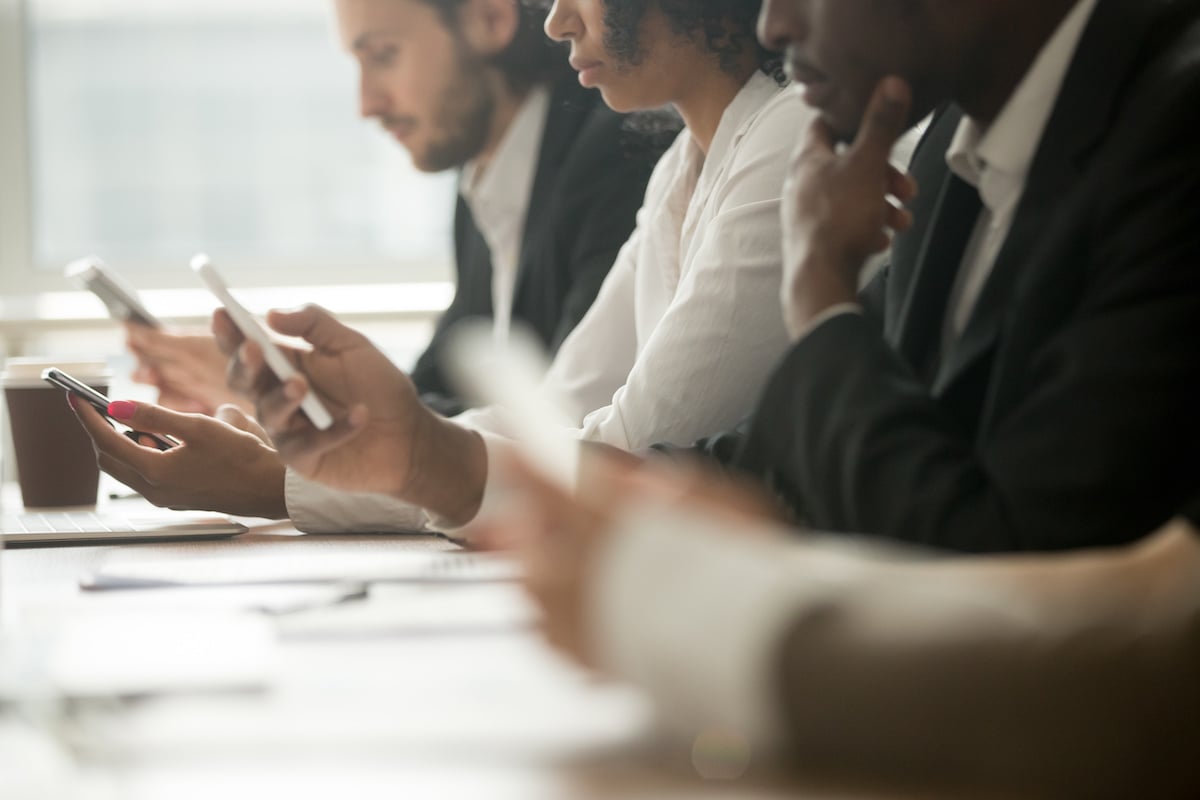 Companies should be leveraging text messaging to communicate with customers, but they are also realizing that it is just as important to capture these messages, as they form part of the customer record. Not convinced? Below are four reasons why it's important to keep records of all text messages.
1. Compliance
Compliance requirements are undoubtedly one of the main reasons many organizations need to capture and archive mobile text messages. Many organizations need to comply with FINRA, SEC, GDPR, and MiFID II regulations. Government entities, meanwhile, need to comply with the Freedom of Information Act or various Public Records Laws. These regulations apply to just about any form of modern digital communication, including email, social media channels, corporate chat platforms, and text messages. Sending a short text message or having a quick conversation with a client doesn't always feel as if it carries the same weight and obligation as an official letter, or even an email, but it does. If a company is sending out text messages, and it is subject to any records retention regulations, those messages need to be captured and archived.
2. Litigation
Even if a company doesn't need to comply with any specific rules or regulations, there's another important reason to capture and archive mobile text messages: litigation preparedness. Like emails and recorded phone calls, text messages can be entered into evidence and used in legal proceedings, so it's important for organizations to have access to these records, especially when it comes to defending against false claims and facilitating eDiscovery. Moreover, messages should be archived in such a way that their authenticity is guaranteed and provable via a full audit trail, that they can easily be searched and identified, and that they can quickly be added to specific case reports.
3. Training and HR Intervention
Whether communication is taking place on the phone, over email, on social media, or via mobile text messages, it's important for organizations to know exactly what conversations employees are having with both coworkers and customers. Is an employee making unrealistic promises to a customer or harassing a colleague? The company should know about it—they should have a central point where both new and old messages can be investigated, and where their authenticity is irrefutable. By having these detailed records, an organization is ready for any necessary disciplinary measures. And even if there are no red flags, records can be incredibly useful when it comes to training employees on communicating more effectively. By studying archived content, managers can see where messages are typically unclear or badly phrased, and help employees in crafting better communications.
4.

Marketing
As mentioned at the top of the article, mobile text messages can be far more effective in delivering marketing content to customers than emails, but that doesn't mean that messages shouldn't still be crafted carefully; there is always room for improvement. A good SMS/mobile text archiving solution is able to provide details on exactly when messages were sent, delivered, read, and answered. By studying the content of captured messages (as well as when messages were opened and answered), marketing teams can identify the messages, deals, and times that work best and refine SMS campaigns even further.
Want to learn more about why SMS/mobile text archiving is crucial? Read our blog post, Text Messages and eDiscovery: 4 Cases You Should Know About.