Pagefreezer recently published a guest article on the Association of Certified eDiscovery Specialists (ACEDS) Blog that discusses some key takeaways from the Legalweek virtual conference sessions, which took place from February 2 – 4, 2021.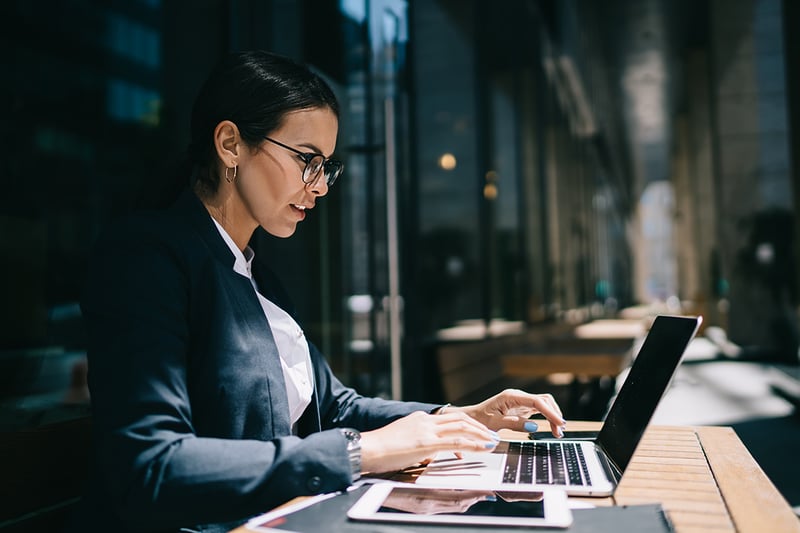 One key topic, which came up in multiple Legalweek sessions, was the impact enterprise collaboration tools like Slack, Microsoft Teams, and Workplace from Facebook are having on eDiscovery.
Because it was mentioned so often during Legalweek, I thought I would expand on the ACEDS article here by looking at some of the reasons why team collaboration tools have had such a profound effect on eDiscovery. Below are eight reasons enterprise collaboration platforms are disrupting eDiscovery as we know it.
1. A (Sudden) Shift to Remote Work
It's impossible to discuss the impact of team collaboration tools without mentioning the fact that millions of employees suddenly started working from home in 2020. Collaboration platforms were already impacting eDiscovery, but the pandemic intensified companies' reliance on these tools and greatly increased the data hiding in these platforms. Microsoft Teams, for instance, went from 20 million daily active users at the end of 2019 to 115 million users in the fourth quarter of 2020—that's a lot of new ESI to deal with.
2. An Overwhelming Number of Collaboration Records
As mentioned in the section above, the amount of records being created within enterprise collaboration tools can place tremendous cost and time pressure on legal teams. It's not unusual for a large organization's Slack, Teams, or Workplace instance to contain hundreds of thousands of messages. So finding a particular record created by users, groups, and direct conversations can be incredibly time-consuming.
3. The Dynamic Nature of Team Collaboration Tools
Another key challenge of enterprise collaboration data stems from the fact that these platforms are so dynamic. Unlike with discreet PDF documents or emails, enterprise collaboration data is always changing and evolving. Not only are eDiscovery professionals forced to deal with an overwhelming amount of data, but that data is constantly changing. Employees are communicating and collaborating virtually every single second of the day—and they have the ability to edit and delete those messages.
4. Multifaceted Platform Content
As with social media, dealing with enterprise collaboration records is difficult because it can consist of so many different kinds of data. People aren't just sending messages back and forth. Workplace, Slack, and Teams conversations are typically filled with GIFs, videos, images, and countless other file formats. Add to this the fact that so many other applications integrate with team collaboration platforms, and you have a very complex web of data to untangle.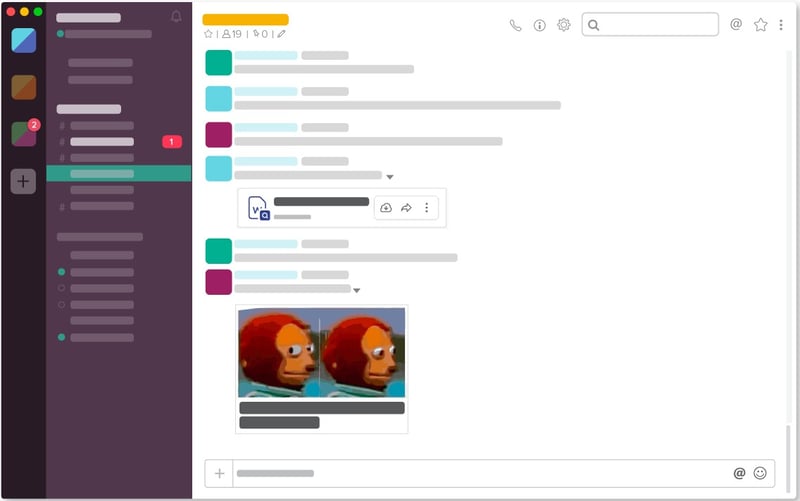 Slack channels and conversations typically contain shared files, GIFs, images, etc.
5. Limited Access & Native Search Functionality
Although most team collaboration platforms offer some sort of native search functionality, these haven't been designed with eDiscovery in mind. If you're dealing with a large number of users and channels, it can be hard to identify every relevant record through search. Moreover, no one (not even the primary platform administrator) can search through private conversations, so there's no way to identify relevant conversations directly through the platform itself.
6. Confusing eDiscovery/Compliance Exports
To deal with the limited access to direct conversations, most platforms provide some form of eDiscovery/compliance export that offers access to all content, even direct conversations. The problem, however, is that these exports are typically in JSON format, which looks nothing like the original messages in Slack or Workplace. These make it almost impossible to understand context and intent and isn't really a viable solution when it comes to eDiscovery. Here is what a simple message ("Hello world") would look like if it has been starred and pinned, and if it has a couple of reactions.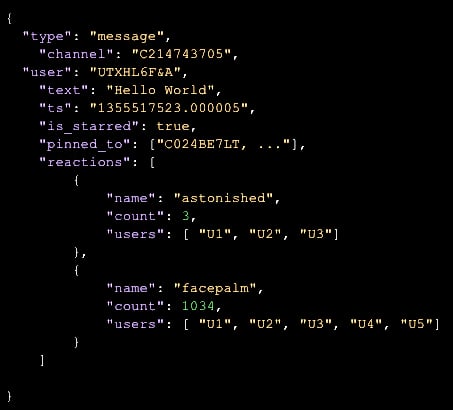 7. Challenges in Presenting Evidence During Litigation
As the image in the previous section suggests, JSON files are not only hard to understand—they are also not suitable when responding to a request for production of documents or presenting evidence in court, since they don't meaningfully explain an online interaction. The alternative, a simple screenshot, is also not ideal, since it would lack the hash values and metadata needed to authenticate it. This means eDiscovery professionals face a significant challenge when trying to export evidence in a format that can be used during litigation.
8. Collaboration Platforms Lack eDiscovery Functionality
Enterprise collaboration platforms are a relatively new source of ESI catapulted into mainstream use due to the pandemic. A data source like email has been around for a long time, and as a result, very mature systems and processes exist for dealing with this information during eDiscovery. Enterprise collaboration platforms currently lack built-in eDiscovery functionality, while eDiscovery tools struggle to ingest and manage collaboration content.
This is where Pagefreezer can help. Pagefreezer offers a Legal Edition for Enterprise Collaboration. With Pagefreezer, legal teams can:
Capture all records by simply adding users and groups to the Pagefreezer dashboard and then instantly view a live replay of all content

Use advanced search to find relevant content across all archives, accounts, direct conversations, timelines, and groups

Collect relevant content, add comments, and export files to local servers for eDiscovery purposes

Export data to file formats such as CSV orPDF, or as a packaged eDiscovery file that can be ingested by modern eDiscovery tools. Records are time-stamped and signed with a SHA-256 digital signature. All associated metadata is included in the export

Place users and data on legal hold to prevent the deletion of crucial evidence
You can also watch the video below to see Pagefreezer in action.
To learn more, visit our Enterprise Collaboration Solution Page, or download our case study, Facilitating eDiscovery of Workplace from Facebook Data to see how Pagefreezer helped a leading global tech company streamline early case assessment of evidence in Workplace from Facebook.