Working from home is an increasingly common reality for workers across a wide range of sectors. While remote working presents the opportunity for a better work-life balance, can increase productivity levels, and even save your company money, it also brings a unique range of challenges for HR teams.
The coronavirus pandemic has accelerated the move towards home working, and many companies have responded by implementing enterprise collaboration (EC) tools. The market for these services is expected to reach almost $70 billion by 2024 – a 15.23%increase from 2018.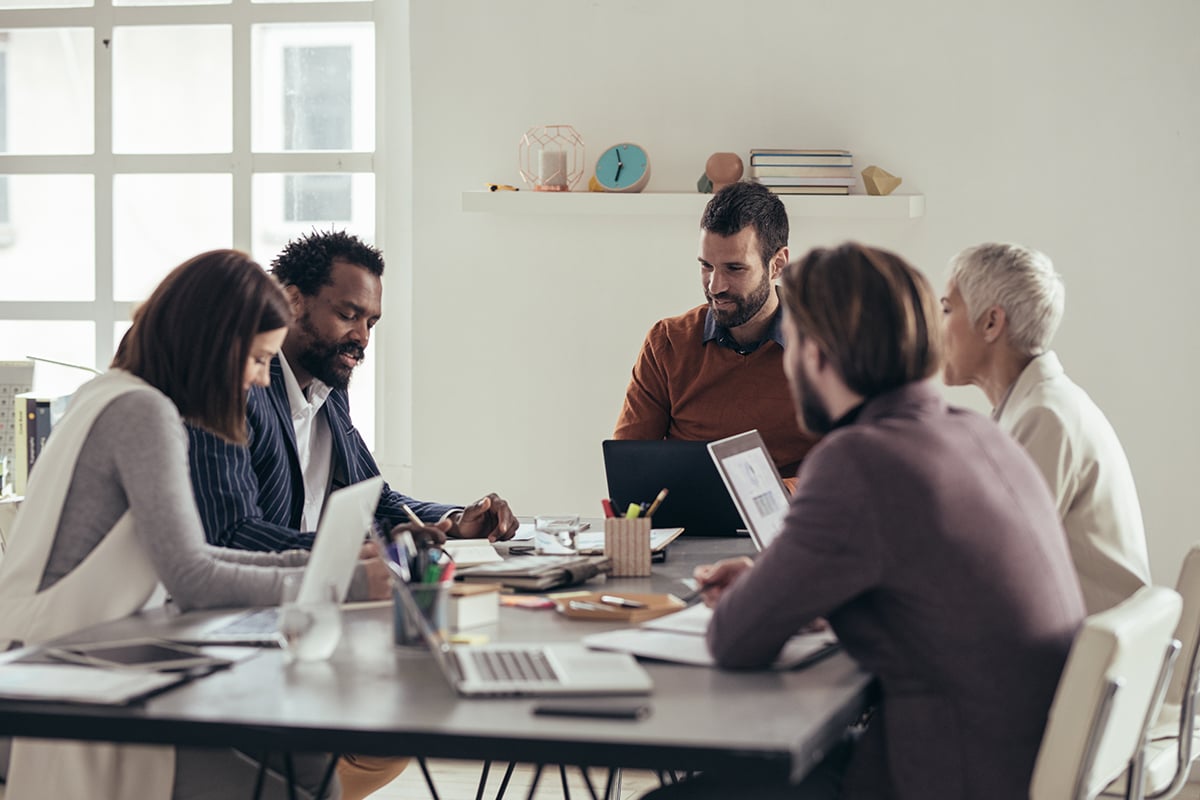 Should HR teams be concerned? Collaboration tools can help workflow, and help keep teams feeling connected – but they also pose some hypothetical risks when it comes to employee welfare, disputes, and litigation.
This article will present five crucial questions that your HR team should be asking when it comes to implementing enterprise collaboration (EC) within your workplace.
1. How Can Our Enterprise Collaboration Tool Reflect Company Culture?
You'll want your EC solution to be representative of the values and beliefs your company strives to uphold. As many companies have switched to remote working practices during the pandemic, this has become especially pertinent.
Benefits of EC Solutions
Did you know that 80%of employees prefer to work from home, at least some of the time? From home comforts to a reduction in commuting time and costs, the appeal of remote working is clear.
However, a lack of physical coworking could lead to teams feeling less connected, especially if measures to facilitate their cooperation are not introduced. This is where an EC tool can prove so valuable, enabling colleagues to interact, engage and communicate in a manner that recreates some of the office camaraderie and "water cooler moments" that they may be sorely missing.
The Serious Side
However, just as in a physical office space, issues such as cliques and exclusion may still occur within the context of an EC tool. An additional problem may also arise with regard to the misinterpretation of intended tone in written communication.
Another thing for HR to consider is the fact that not everyone may feel comfortable collaborating in this new way, and as a result, may feel disadvantaged by a move to digital communication.
2. How Do We Ensure the Use of the Platform Aligns With Existing Communication Policies?
Companies typically have communication and conduct policies that outline what acceptable behavior looks like. But how do you ensure that these policies are enforced on a collaboration platform like Slack or Microsoft Teams? And should there be allegations of misconduct, how can HR teams effectively search and review this content during an investigation?
When it comes to unmonitored communication on EC tools, bullying can become an issue. Your employees should know and respect the expectations surrounding company culture and private communication, but in case of transgressions, it's important for HR to know they have access to the information needed to reach a resolution.
This is where Pagefreezer can help. By providing a perfect record of all EC communication in real-time, even edited or deleted messages can be accessed and placed in the wider context of employees' communication. Conflicts can be speedily pinpointed with our advanced search functionality, and in the unfortunate event of any escalation to litigation, all exported data will meet the stringent requirements needed to render it admissible in court. You can also place profiles and data on legal hold to prevent deletion.
Pagefreezer's monitoring functionality also means that any inappropriate use of your EC tools can be flagged for speedy intervention and resolution. Help stop issues before they've escalated, and reassure your employees that proactive steps are being taken to uphold your company's culture and ideals across all shared digital environments. HR teams can even use Pagefreezer's sentiment analysis to ensure that only emotionally charged use of keywords gets flagged.
Make It Clear
In addition to extra monitoring, it's also important to let employees know what company protocols are.
Creating a user guide that outlines how your company monitors internal communications and what happens when disrespectful communication is found.
An internal guide to the correct use of EC tools sets company-wide expectations and can outline clear procedures for raising concerns, as well as help employees understand how and why their communications may be subject to monitoring.
Rather than appearing censorious, this is a great way to reassure people that your enterprise takes their safety and comfort seriously.
3. What Are the Implications for Remote Workers?
At the start of the pandemic, 42% of the population began working from home. The rapid increase in these numbers highlights the importance of not only enabling better collaboration and communication but also implementing extra security measures. Sensitive information and intellectual property might be exposed if employees are using enterprise collaboration tools at home or on public networks.
HR will want to ensure that any issues with security, data, and IP protection relating to a remote workforce and the use of EC tools are considered and mitigated.
Peace of Mind
This starts with discussing the need for clear remote working policies. When it comes to the access that employees have to your EC tools, consider the measures you have in place to restrict access to channels on a "need to know" basis. Are you taking steps to correctly classify your workforce? For example, should freelancers or contractors have the same access rights to your EC tools as employees?
In addition to creating a water-tight and compliant remote work policy, you should also take care to ensure you only work with EC tools that offer the highest levels of enterprise-grade security, such as Slack, Microsoft Teams, or Workplace from Facebook.
Working with tools that offer high levels of security gives your company peace of mind when employees are working remotely.
4. What Tools Are Our Employees Already Using to Collaborate?
If you're introducing a new system, or simply looking to gain a bit more control over the systems already in place, you need to acknowledge the fact that employees will already have collaboration systems in place. Often referred to as "shadow IT," the chances are high that your employees have already established a preferred method of unauthorized communication. While this shouldn't unduly influence your choice of EC tool, it pays to be mindful of the fact that it can be hard to encourage employees to "unlearn" reliance on these more familiar tools.
Because of this, it's beneficial to look into the platforms and formats that are already popular among your employees. You can do this by tracking patterns, or simply ask them with a brief, anonymous poll centered around the ways employees communicate while at work. You're likely to have most success leveraging the tools that your coworkers already have developed preferences for, so let this factor into your decision process.
Once a specific tool has been decided on, use of other tools should be shut down. If employees are allowed to keep using tools that aren't being managed by IT, it can create compliance, security, and privacy risks, as well as a headache for HR teams.
Guarantee Your Success
It's also important to remember you're not reinventing the wheel here. Tech giants like Slack and Facebook dedicate huge resources to developing their enterprise collaboration tools. Setting up your own system simply won't be able to compete in terms of user experience and functionality, and you may find your workforce wanting to default to the more efficient (unauthorized!) solutions they already had in place. Finally, make sure you have overview and monitoring functionality over all EC tools being used.
Make sure you're working with a leading archiving solution to enable this. Pagefreezer is capable of integrating with the main enterprise collaboration tools like Slack and Workplace from Facebook, giving you full control over all communication, your data, and its preservation.
5. How Will We Acknowledge and Protect Work-Life Balance?
EC tools put fast, effective communication at our fingertips. It's so easy to connect and collaborate — but where do you draw the line outside of work hours?
These issues are especially easy to spot with international workforces, whether you're working in-person or from home. To be respectful of time zones differences, you can offer two sessions of important meetings, or record them and keep notes on-hand. Give your employees options when it comes to the way that they get to engage and contribute.
Virtual Presenteeism
Presenteeism – an unhelpful culture that values "being visible" at work over actual results achieved -– can be an issue in the physical or virtual realm. Employees should not feel pressured to come to work when they're sick or injured. Start with educating your employees on virtual presenteeism. Let them know that just because the computer is there does not mean they have to use it when they're unwell. Equally, no incentive to use EC tools outside of working hours should be given. Protect and respect your coworkers' private time and space.
Keep It Professional
Help employees understand how lines can be blurred as a result of EC tools — especially for business versus private conversations.
Explain what the company's expectations are for avoiding these issues, and the fact that EC tools are meant to help boost cooperation, camaraderie, and morale. They should not be a source of stress.
If communication is starting to veer away from a professional tone, into the realms of inappropriate content that may make coworkers feel uncomfortable, Pagefreezer's keyword monitoring and policy alerts can help. The tool allows you to set specific filters for things like profanity, slurs, and insensitive vocabulary on online channels. You'll get an alert anytime content gets flagged.
6. What Are Our Obligations Regarding Recordkeeping Compliance?
In 2016, the Financial Industry Regulatory Authority reported $22.5 million in fines for books and records violations.
You might not think you have anything to fear, but your company's EC communication falls under business communication and are open for auditing at any time.
In 2019, FINRA reviewed almost 70,000 advertisements and sales communications. Of those, 21 firms were suspended and 6 were expelled. As EC communications increase, so will these numbers.
But the question becomes how do you know what to keep and retain? Where do you start when it comes to procuring previous records?
How Much Recordkeeping Is Necessary?
The first step to answer those questions is to start with how much you need to have on-hand.
FINRA is not the only agency to remain aware of, however. The Securities and Exchange Commission also has its own set of regulations to follow.
Different business sectors are going to bring different levels of responsibility. For the most heavily regulated (think finance and health), you may need to preserve records for up to 7 years.
FINRA's minimum requirement for record preservation is 6 years, no matter your business.
How We Can Help
Pagefreezer helps businesses permanently preserve their EC content to comply with recordkeeping requirements. This means that all of your records will be fully compliant and ready for audit without breaking a sweat.
By planning, you can ensure that you'll have these records ready at a moment's notice. This ensures that you're not missing anything when that audit does roll your way.
Any records you do have ready will be up-to-snuff when it comes to those analyses. Pagefreezer takes the headache out of record-keeping regulations and has you covered in the face of potential litigations.
Want to learn more? Have a look at our Complete Slack Field Guide for Legal & Compliance Teams.