Team collaboration tools are enjoying something of a moment. Already a popular method of communication and documentation between office-based teams, 2020's pandemic saw many enterprises scramble to implement solutions, keen to keep their workforce connected as remote working became an overnight necessity.
In the United States, 4.7 million employees work from home for at least half the week. That's 3.4% of the entire workforce. 62% of full-time employees between the ages of 22 and 65 work remotely at least some of the time. 30% of all employees are working for companies that are entirely remote.

All of this was happening before the Coronavirus pandemic turned the working world as we know it on its head. The amount of workers who work from home at least one day a week has grown 400% in the last 10 years.
Although they also have a role to play within teams collaborating in the proximity of an office, the acceleration of remote working means that team collaboration tools are no longer optional, but a mandatory aspect of modern enterprise
As with any relatively new family of software, there's a lot to learn and take on board, especially when it comes to the technical issues surrounding recordkeeping compliance. Here are some things for your IT team to keep in mind as you move ahead with the implementation of your chosen team collaboration software.
Questions To Ask Before Implementing Team Collaboration Software
The market for team collaboration software is booming and this growth shows no signs of slowing down. When implementing a new solution, you need to have a clear idea of your business goals and objectives, and how these can be met in the most effective and secure manner. The following questions will help you to successfully implement this powerful software to achieve the very best impact.
1. Who Will Be Using The Software?
The first question your IT team will want to answer when implementing tools for team collaboration is "who is going to be using the platform?" Is this intended to be used by your entire organization, or will it be limited to certain sectors of your company?
The intended audience impacts the way in which you'll implement any team collaboration resource, as you'll want to ensure optimum safety and data security around the parameters this throws up.
With increasing numbers of employees using team collaboration tools some CEOs have expressed concerns regarding security, with Slack specifically mentioned. The popular collaboration tool responded by unveiling a new feature called Enterprise Key Management. This lets the account easily manage exactly who has access to the platform and keep tight control over a Slack instance. It's a good compromise if you're wanting to use this popular software in an industry that requires stringent security, and know that the software will be used by a large number of employees .
2. What Kind Of Information Will Be Shared – And How Will You Monitor This?
The nature of the data and its intended usage will also play an important part in what collaboration software you ultimately choose. Are your collaboration tools intended simply to enable your remote team to communicate in real-time? What are the chances of more sensitive data (such as credit card information, sales leads etc) being shared?
It's important to have stringent policies and training in place to make sure that your workforce understands the risks associated with data uploaded to these kinds of platforms. They should know exactly what is and is not allowed to be shared.
Even with clear policies in place around the correct and intended use of your team collaboration software, chances are that, on occasion, someone will forget their training. As a result, with intellectual property and sensitive data at stake, you need to know that you have the ability to accurately monitor these channels for inappropriate (or even dangerous) usage.
Sensitive data isn't the only reason to be concerned with who will be using your collaboration tools. If an HR issue arises and allegations are made regarding messages sent via your team collaboration tools, you'll need a reliable archive, potentially of a quality that would deem it admissible evidence in court, to call upon.
For total peace of mind here, Pagefreezer offers the ability to automatically and seamlessly monitor and archive the entirety of your enterprise collaboration content. Pagefreezer's extended text pattern monitoring enables you to set triggering keywords, and receive alerts when inappropriate or sensitive information is shared.
3. How Will It Be Implemented?
Deciding to implement a team collaboration tool is only one half of the equation. Your next challenge is ensuring the smooth roll out of your chosen platform, getting all parties connected and successfully onboarded. This requires a strategic approach. How will you detect problems or security risks if your entire organization begins using the software all at once?
One way to navigate this issue is to have certain sections of your organization test drive the collaboration tool, before adopting a wider implementation. For example, you might consider inviting your sales team or marketing department to road test the software before rolling it out to your entire team. This way any potential problems will be smaller and more contained. They can be fixed before enterprise-wide adoption is attempted.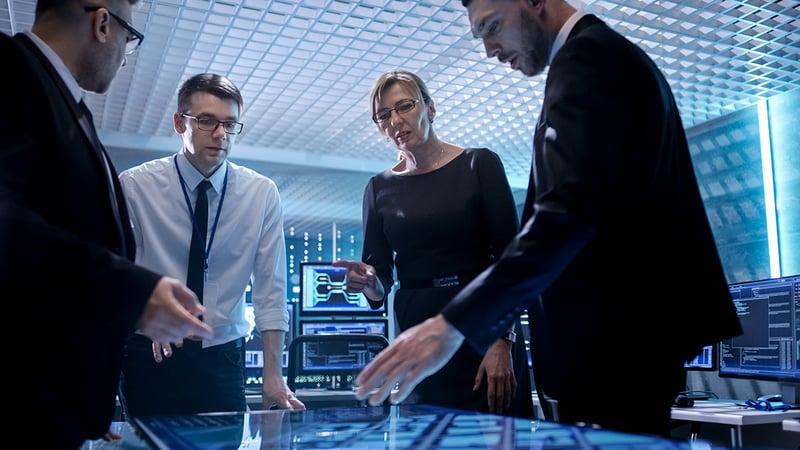 Listen to this advice from Microsoft when it comes to implementing Teams. To get started with remote collaboration tools, "create two or three teams and channels for a select group of early adopters. By first rolling out Teams on a small scale, you'll learn Teams by using Teams and gain valuable insights to inform how you deploy Teams across your whole organization."
Slack themselves have a similar philosophy of implementation. "To ensure success, especially at larger scales, you have to set boundaries and ground rules for Slack. Determine which business processes and workflows will benefit from being incorporated into Slack channels and which will remain as they are. There are most likely several managerial oversight meetings you can skip once project discussions take place in channels, but maybe there are financial regulations that require some meetings to continue unchanged. If you have a goal of transparency, make rules about when and what subjects are acceptable in private channels, while setting other channels to public by default."
4. Do You Have a Communication Policy in Place?
As we've said before, you have little control over what is said on your team collaboration channels once they're set up and in place. This means you need to put clear parameters in place regarding the way your workforce are expected to use the platform you've chosen. Remote collaboration tools can become a source of online bullying, time wasting, and data leakage. By being mindful of this in advance, and putting effort into training and education, as well as creating clear, concise policies, you can minimize the risk of these issues developing.
It's important that you have a comprehensive communication policy in place before you adopt widespread collaboration software. This is a "stable door / bolted horse" situation – be sure to demonstrate your intentions for communication before the first message has been sent.
5. How Will Data Be Collected And Preserved For Compliance And Litigation?
In addition to monitoring your team collaboration tools for incorrect or dangerous usage, you'll also have a responsibility to keep accurate archives of all communications to meet internal policies and external recordkeeping regulations.
The extent of this will depend upon how heavily regulated your sector is, but it's essential that you have a clear strategy in place for the regular backing up and archival of your channels.
Download and read our white paper on archiving your communication solutions for more advice and information on why this is important.
6. What Other Applications Will You Be Using?
In modern enterprise, software solutions seldom operate in isolation. You need to take this into consideration when deciding how to implement a new collaboration tool. At best, it could mean an ongoing source of headaches, file conversions, lost data, and unnecessary communication.
At worst, it can result in your data getting stuck in siloes where it doesn't do anybody any good. This can lead to animosity between various teams of your enterprise which can erode a sense of teamwork and collaboration.
This makes a popular tool like Slack, MS Teams, or Workplace from Facebook worth considering. As market leaders, these platforms integrate with virtually any and every 3rd-party app you can imagine. This can lead to powerful, smooth, efficient workflows by integrating with other popular tools like Dropbox, G Suite, Zoom, Trello, Salesforce, etc.
7. How Tech Savvy Is Your Workforce?
When choosing a collaboration tool, you should really consider how comfortable with technology your workforce is.
If you're dealing with a large enterprise, you're likely going to be dealing with a wide array of technical abilities. This means you should shoot for a tool that is accessible and easy to understand. Software like Slack is essentially plug-and-play, meaning you can have employees up and running in no time at all. Similarly, Workplace from Facebook is incredibly intuitive for anyone who is already familiar the normal Facebook platform, as its UI follows similar design patterns.
If your team is highly technically proficient, however, you should have more options available at your disposal. If you run a software development company, for instance, most of your team is likely to be familiar with remote collaboration tools like GitHub.
8. What Is Your Budget?
What are the ongoing costs of your chosen team collaboration tool likely to be? It's important to look at the price tiers of the platform you favour to judge how your use is likely to impact the budget your department will require. How is pricing calculated? If it's on a per-user basis, what happens if your company scales or makes a new acquisition?
For larger enterprises who require very robust security features and software that meets compliance needs and regulatory requirements like FINRA, HIPAA, and FedRAMP, it's likely that you're going to be looking at the more expensive brackets.
Asking these questions ahead of time will help to make the transition process as painless and efficient as possible. And, most importantly of all, choosing the right caliber of collaboration software means that all of your communication and sensitive data stays secure from the very start of your collaboration.
Want To Learn More About Keeping Your Data Safe And Secure?
Whether working from home as a result of a pandemic or simply in pursuit of more efficient communication across the many interlinking departments housed within your offices, team collaboration software has become the new normal.
With a little forethought and careful planning, businesses like yours can enjoy all the benefits these tools bring, whilst mitigating the risks. To enjoy the reassuring certainty that your business is fully compliant in its official recordkeeping, ready for any eDiscovery requests, and on top of any inappropriate platform use, work with an expert enterprise-grade solution like as PageFreezer.
Want to learn more about the data challenges of an enterprise collaboration platform? Read our blog post, Understanding Unstructured Data Hiding in Enterprise Social Networks.