TeleMessage, the leader in innovative mobile messaging and mobile archiving solutions is pleased to announce a strategic partnership with PageFreezer, a leader in website & social media archiving for compliance & eDiscovery.
The partnership will enable businesses, government agencies and financial institutions to meet new mobile and social media recordkeeping regulations by offering centralized secure archiving of their entire electronic communication: social media, mobile communication and online web content.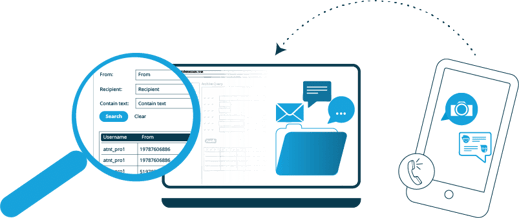 TeleMessage's innovative platform captures SMS, MMS, Chats and Audio call recordings enabling the capture of messages which include text, multimedia, documents, calls and other metadata in response to the continued growth of State Public Records laws, NARA Bulletin 2015-02 for Federal agencies and rollout of FINRA Regulatory Notice 17-18, SEC Rule 17a-4, as well as similar regulations across many other verticals.
This partnership with PageFreezer will enable customers to gain similar access and control of their Facebook, Twitter, Workplace by Facebook, Yammer, Chatter, LinkedIn, Google+, YouTube, Pinterest, Instagram and messages and website data.
"Our Customers can now benefit from archiving their mobile communication and also their social media in a single interface and location," says Guy Levit, CEO of TeleMessage. "We already have several joint customers, and believe that this cooperation will allow businesses to benefit from a centralized message archive for compliance, legal and business purposes."
"Social Media and Mobile communications are extremely popular methods of communication, both for personal use as well as within an enterprise, " says Michael Riedyk, CEO of PageFreezer. "But there are a number of risks associated with using these communications without giving their record keeping processes enough consideration. This new cooperation with TeleMessage enables our customers to easily comply with regulations that demand mobile and social media message archiving for effective compliance."
Click here to learn more about TeleMessage's Mobile Text Archiving solutions. You can also visit PageFreezer's website to learn more about its Social Media Archiving offering.
About TeleMessage

TeleMessage is changing the way people and businesses interact in the evolving mobile space. TeleMessage has been helping businesses of all sizes to leverage the power of the mobile channel with our robust messaging platform since 1999. Our innovative product set has been successfully deployed and used by thousands of enterprises. We are trusted by dozens of telecom operators, we reach hundreds of millions of users and we power billions of messages through customers' networks. Our messaging solutions portfolio includes: Mobile Archiver, Secure Enterprise Messaging, and Mass Messaging product lines. For more information, please visit www.telemessage.com.
About PageFreezer

PageFreezer Software Inc. is a leading provider of archiving content for websites, blogs and social media channels. Our clients range from Fortune 500 to charitable organizations and post-secondary educators. By utilizing PageFreezer, they empower their organizations by providing instant access to all of the their past online content. This content can be used for marketing, communications, compliance, litigation protection, call center support and much more. For more information, please visit www.pagefreezer.com.