Law enforcement agencies rely heavily on social media platforms for their public messaging.
Statistics show that 91% of law enforcement agencies use social media to notify the public of safety concerns, 89% for community outreach and engagement, and 86% for public relations and reputation management. According to the nonprofit Urban Institute's Social Media Guidebook for Law Enforcement, Facebook is the favorite platform for law enforcement agencies, followed by Twitter and YouTube.
The reason social media is so popular among police departments and other law enforcement agencies is simple: It works. Some departments have hundreds of thousands of followers across multiple platforms, making it the quickest and easiest way to communicate with the public.
Below are some real-world examples of the ways in which law enforcement agencies can use their official accounts to improve public communications.
Law Enforcement Social Media (LESM) Examples
Asking the Public for Help
The Fort Worth Police Department has 332,000 followers on Facebook and around 200,000 followers on Twitter, which means that the department has an incredible resource at its disposal when it comes to finding suspects. Fort Worth PD regularly asks for the public's help on social media when trying to track down suspects—and the people of Fort Worth are willing and able to help. There are plenty of examples on its Twitter account and Facebook Page of suspects that were located with the help of the public.
Alerting the Public of Danger
Whether dealing with an imminent threat or a troubling uptick in crime, social media is a great place to get the word out quickly. Below is an example from the Los Angeles Police Department (LAPD) warning people of a recent rise in theft of Kias and Hyundais. Interestingly, this rise in theft itself seems related to social media—the TikTok Kia/Hyundai social media challenge encourages users to steal these cars and shows how to hotwire them.
The Los Angeles Police Department's Commercial Crimes Division is aware of a recent social media trend regarding vehicle thefts. Please read the attached Community Alert for more information. pic.twitter.com/E5NfRcXVer

— LAPD HQ (@LAPDHQ) August 26, 2022
Sharing Information & Issuing Updates
Social media, especially Twitter, is one of the best places to share information and issue updates. Whether trying to find out if a particular road is still closed or looking for more information regarding a recent high-profile arrest, many people turn to Twitter first, so this platform should be seen as a crucial communication channel for all police departments. The Fort Worth Police Department is again a great example of an agency that keeps the public informed through regular Twitter (and Facebook) updates.
#TrafficAlert

An oversized load traveling South on Interstate 35 is currently wedged under the McAlister bridge.

Traffic is currently backed up to Risinger Rd. in Fort Worth. Please avoid the area if at all possible. pic.twitter.com/yCcznqvetX

— Fort Worth Police (@fortworthpd) September 2, 2022
Here's another excellent example from Miami PD. The department shared a video regarding a recent DUI checkpoint, offering insight into a scenario that many people find intimidating.
We had a multi-agency DUI checkpoint and saturation patrol with @coralgablespd in SW 8st/44ave area. Ofc. Pastor from our traffic unit breaks down the ins and out of how it was conducted. ✅Results: 452 vehicles checked, 119 traffic citations issued, and 8 traffic-related arrest. pic.twitter.com/VQdfQoMN3D

— Miami PD (@MiamiPD) September 14, 2022
Issuing PSAs
Public service announcements (PSAs) might have a reputation for being either exceptionally corny or overly dramatic and disturbing—but social media offers the perfect opportunity to update the traditional PSA for the modern age and leverage real-world examples that instantly put your point across. Below is a great example from the Seattle Police Department in which an actual crash (in which no one was injured) was used to illustrate the risks of distracted driving.
Community Outreach
Community outreach is best done face-to-face out in the real world. However, social media can play a valuable role in promoting your community outreach programs. Many police departments successfully use their official social media accounts to get the word out about community events. For instance, many agencies have "coffee with a cop" programs where the public can meet and chat with police officers in an informal setting—and they use social media to promote these events and generate interest.
Say it with us: COFFEE! COFFEE! COFFEE!

Join us Oct. 5 -- just so happens to be National Coffee with a Cop Day -- to celebrate bringing back getting together because we are better together.

Where: @Starbucks, 565 San Antonio Road
Time: 10 am to noon#CoffeeTime pic.twitter.com/rUeWvS5rue

— Mountain View Police (@MountainViewPD) September 27, 2022
Promoting Initiatives
Along similar lines to the point above, social media can be used to promote a police department's initiatives and raise awareness around issues that impact the department and the community it serves. As one recent example, many police departments—including Miami PD—used social media to promote National Police Woman's Day and the 30x30 Initiative aimed at advancing women in policing.
Recruitment
When looking to recruit new officers from a population of digital-native zoomers (also known as Gen Z), comprehensive social media campaigns are a must. Public safety agencies like the New York Police Department make use of Twitter, Facebook, Instagram, YouTube, and even TikTok to promote a career in law enforcement.
Celebrating Wins
Social media offers the ideal forum for showcasing the human side of your agency. Highlighting the department's officers is an excellent way to put some faces to your agency's name, while broadcasting significant wins can help illustrate the positive impact that the department is having in the community. The first post below from the Albuquerque Police Department showcases the result of a major seizure, the second celebrates some of the department's officers.
Answering Questions
Lastly, social media is a great place to answer the public's questions. But to be fair, this is both a benefit and a challenge. If you have official accounts, the public will use these communication channels to ask their questions, which means accounts have to be monitored constantly to ensure questions don't go unanswered. This can be challenging.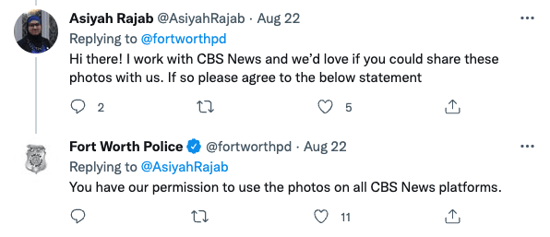 However, it's important to remember that this is exactly why social media can be such an effective tool: it allows for two-way communication. Rather than simply broadcasting information to the public, social media lets police departments engage with the public and bring their community outreach effort into the digital realm.
Social media offers many benefits for police departments but it also introduces certain risks. Read our blog post below to see what you can do to mitigate the risks that social media poses to law enforcement.