Canadian Business unveils 2017 list of Canada's Fastest-Growing Companies
Vancouver (September 14, 2017) Canadian Business and PROFIT today ranked PageFreezer No. 19 in the Software category, No. 50 overall on the 29th annual PROFIT 500, the definitive ranking of Canada's Fastest-Growing Companies. Published in the October issue of Maclean's magazine and at CanadianBusiness.com, the PROFIT 500 ranks Canadian businesses by their five-year revenue growth.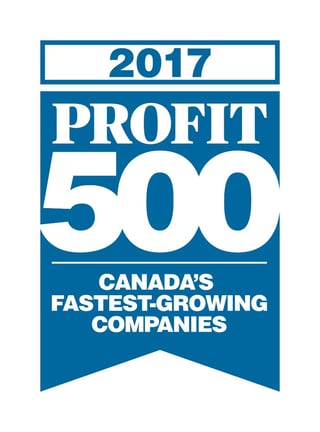 PageFreezer made the 2017 PROFIT 500 list with five-year revenue growth of 1,491%
"It is never easy to earn a spot on the PROFIT 500, but this year's applicant pool was the most competitive yet," says Deborah Aarts, PROFIT 500 program manager. "This year's winners demonstrate the resilience, innovation and sheer management smarts it takes to build a thriving business today. Canada—and the world—needs more entrepreneurial success stories like these."
We are proud to be listed among other top innovative companies leaving their mark in the Canadian economy," says Michael Riedijk, CEO of PageFreezer, "Our team has worked tirelessly to offer an advanced and reliable website and social media archiving product of absolute necessity to many markets. This growth serves as a big reminder that we are succeeding at helping other organizations do what they do best as we take regulatory compliance off their plates."
Through its SaaS (Software-as-a-Service) application, PageFreezer enables organizations to permanently preserve their website and social media content in evidentiary quality and then access those archives and replay them as if they were still live. Uses for PageFreezer's archived data range from compliance with regulators such as the SEC, FINRA and the FDA to litigation preparedness, evidence capture, call center support and competitive intelligence.
PageFreezer has also been a multiple-year winner of Red Herring's Top 100 America's award an award honoring private tech companies from a selection of over 1000 tech innovators, investors and business decision makers from 40 different nations for innovative performance, growth and market improvement. Its solution has additionally won a second-place award in The Accenture Innovation Awards (The Netherlands) in the category of Media, Communications, and High Tech (2011)
About the PROFIT 500
For 29 years, the PROFIT 500 has been Canada's most respectable and influential ranking of entrepreneurial achievement. Developed by PROFIT and now published in Maclean's magazine and at CanadianBusiness.com, the PROFIT 500 ranks Canadian companies on five-year revenue growth. For more information on the ranking visit PROFIT500.com
About Canadian Business
Founded in 1928, Canadian Business is the longest-serving and most-trusted business publication in the country. It is the country's premier media brand for executives and senior business leaders. It fuels the success of Canada's business elite with a focus on the things that matter most: leadership, innovation, business strategy and management tactics. Learn more at CanadianBusiness.com.
Media Contact
Michael Riedijk, CEO
+1 888 916 3999