Full disclosure. You've probably heard that many times as a way to show that the speaker has a vested interest in what they are saying. When it comes to public companies, full disclosure is not a whim, but rather a fundamental requirement. It helps keep the modern stock markets fair (along with other regulations).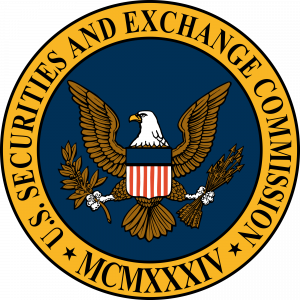 Regulation FD (Reg FD), passed in 2000, is an SEC reporting requirement that mandates that all publicly traded companies must disclose material information to all investors at the same time. The regulation was a response to the rapid expansion of online trading and the power of the open internet. On the online trading side, millions of users now had the ability to execute trades with a click of a button. On the communication side, there was a new ability to disseminate information. The internet created a need for more open disclosure and the ability to deliver it.
Previously, company information such as financial results and material changes was distributed to analysts via conference calls. Access to this information was restricted, and it created an environment where large players (who employed the analysts) had access to market-changing information before the public.
Now, under Reg FD, reporting companies need to deliver the information to all the public at the same time. Traditionally, press releases serve this function. But press releases can be slow to produce, cumbersome to manage and costly (especially to the ~ 14,000 small issuers that trade on the OTC). Every time an issuer needs to report information, they'd have to write, edit, approve and release news. And, press releases for financial disclosure are not cheap.
Old School Disclosure - Press Releases
Consider, one well-known press-release service charges $750 for one release. Each company needs to do at least three quarterly's (10-Q) and one annual (10-K). Also, throughout the year any company worth their salt will be doing deals, adding resources, or whatever they can do to improve their business. If these are significant enough, these must also be reported.
As of April 2, 2013, the SEC made a clarification that companies can now use social media to comply with Reg FD! This is a determination that social media is now widespread enough that is provides
"another method or combination of methods that is reasonably designed to effect broad, non-exclusionary distribution of the information to the public."
For public companies, this is a game changer on how they comply with Reg FD. They don't have to spend hours upon hours drafting a press release and spending thousands upon thousands for straightforward compliance. They can now use their social media accounts to quickly and cost-effectively distribute their material information in a fair and SEC sanctioned manner.
In October 2015, Goldman Sachs' took the initiative and started using their website and Twitter to distribute official documents. While now, this might be an exception, it is inevitable that this method of distribution will become the standard. The savings in time, complexity and cost are too powerful to ignore and the internet will take over another industry.
Of course, there are specific rules and guidelines to follow. A company can't just post a Tweet and think that's it. Here are best practices to follow:
Twitter
There are many social media channels out there. However, some obscure network with limited following can't be considered broad, non-exclusionary distribution. Facebook has an algorithm that determines what shows up on a feed; not all posts will appear. Thus, the most appropriate social media network for Reg FD compliance is Twitter.
Proper Notification
Announce before any disclosure what channel you will be using. Put it on your website, your filings, your press releases, anywhere and everywhere you can so your investors and regulators know exactly where to watch. Be consistent, timely and regular on your Tweets so that it becomes the go-to source for such information.
Trusted Source
Who is creating the Tweet? Are they the party responsible for such disclosures? You want to ensure that the Tweet is accurate, from the proper channel and that it is authentic. Effective security and collaboration processes are vital.
Other SEC Regulations
Reg FD is, of course, only one of many SEC requirements. Posting on Twitter does not negate any of those. Consider forward-looking statements and the inclusion of meaningful risk factors. Are there other Tweets that might get entangled with the Reg FD Tweets? While Twitter might make the disclosure creation easier, it's still a legal record and your legal team should sign off.
Archiving
As with all sensitive business communications, a proper record is imperative. You don't want to rely on Twitter in the case of an audit. They have no duty to save your Tweets. Don't rely on techniques that can't be verified or are susceptible to alteration. You need a provable, accurate record of EXACTLY what you disclosed and when.
SEC regulatory notices concerning web and social media sites explicitly state that firms must retain records of all business-related electronic communications to remain compliant. Failure to comply with these regulations can result in hefty fines, bad publicity, and ultimately loss of business. It's critical your company implements a robust records retention policy for your websites and social media pages. You must preserve your online presence in a way that's regulation-compliant, user-friendly, and, above all, affordable.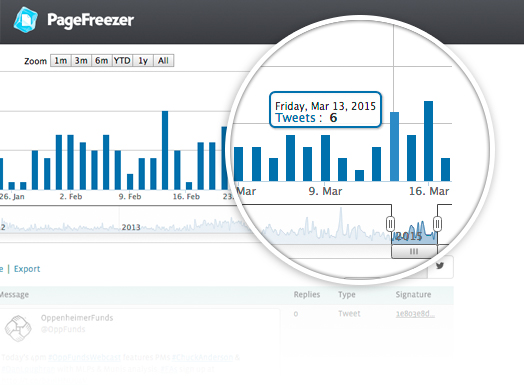 That's where PageFreezer steps in. PageFreezer is a web and social media archiving service that is archiving over 600 public companies, financial firms, government agencies and other major organizations. We know exactly what regulators are looking for regarding accurate record keeping and ensure your archives are secure, authentic and easy to produce in case of an audit.
With a proven, trusted archiving system in place you'll never be caught flat-footed, scrambling to deliver accurate records. You don't want to spend hours and hours trying to produce records, or worse, sanctioned by the SEC.
PageFreezer offers an enterprise-class SaaS solution, built to support even the most sophisticated websites, blogs, and many social media networks. All accessible on one platform. With PageFreezer, you get complete archives of ALL your web content — without a lot of hassle.
Learn more on how to comply with Regulation FD quickly, easily and affordably