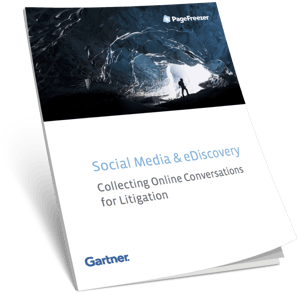 VANCOUVER, British Columbia, — PageFreezer has released a newsletter entitled, "Social Media & eDiscovery - Collecting Online Conversations for Litigation" featuring Gartner research:

According to Gartner's March 2016 research note, "Gartner's research provides an analysis of common governance challenges faced by IT caused by content types like social content, instant and text messages that dominate communications today. It discusses these challenges and makes specific recommendations for managing them moving forward.

As an industry leader in website and social media archiving, PageFreezer has provided its own content to further educate organizations on the unique complexities of social media data, the most common governance challenges of social media content, and recordkeeping regulations affecting all industries; providing tips on how to flawlessly prepare your records for compliance & litigation.

"Regulatory purposes aside, lawsuits and investigations now require social media discovery more than ever, posing a number of eDiscovery challenges with the multifaceted nature of these networks." says Michael Riedyk, CEO of PageFreezer,

"In our newsletter featuring Gartner research, we try to demystify many of the questions about social media in litigation and provide practical guidelines how to work with it."

Download the newsletter here:


About PageFreezer
PageFreezer is a leading provider of website and social media archiving solutions to over 750 finance, legal, telecom, retail, utilities, government and post-secondary education clients. PageFreezer is a SaaS (Software-as-a-Service) service that enables organizations of all sizes to permanently preserve their website and social media content in evidentiary quality and replay them as if they were still live.
Contact:
Michael Riedyk, CEO
pr@pagefreezer.com
+1 888 916 3999
Gartner, Solve Increasing Governance Challenges Caused by IM, Social and Mobile Content
###