PageFreezer just got better! We're thrilled to announce the latest release of PageFreezer -- including several important additions that focus on making your archives easier to navigate. Over the last few months, we've been working to bring more control into your hands, so you can easily find what you're looking for. Read on to discover the latest in PageFreezer's unique archiving technology.
And stay tuned: we have even more great features coming up in our July Release!
The most important part of archiving your website is the ability to navigate those archives with ease. Finding what you need, when you need it --- that's a crucial element to success in e-discovery, litigation, web-analytics, or just looking over past snapshots to see how your site has changed over time. Fortunately, PageFreezer is dedicated to making sure your digital records are simple to navigate, even if you archive thousands of pages per month.

Site navigation menu
Opening a snapshot (archived page) of a website within your PageFreezer account, you can navigate through the latest archived version of the site using the new navigation menu that appears on the left. It shows the website structure and archived pages in a list form, so you can click around to get an overall view of how the site looked at the time of archive. This feature expands upon the calendar and other tools that allow for navigating your digital records.
Snaphots shortcuts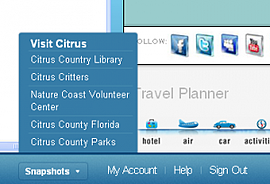 In addition, we've added a shortcut bar to the bottom of the page (within the snapshot view of an archive). Right from there, you can jump to snapshots on other websites that PageFreezer is archiving for you. This is especially nice for large organizations that maintain several sites or keep tabs on competitors' sites -- you can click around to snapshots of different webpages, viewing how they compared at the selected date you've chosen to view. The shortcut bar also gives you quick access to customer support and your account info.
Date Range Search Filter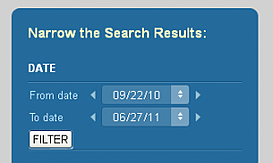 Finally, we improved the Search functionality by making it possible to search for specific terms within a particular date range. Want to find every occurrence of the word "environment" on your site between May and August? After typing the term into the Search bar, you can use the calendars to filter your results by date. You can search any or all of the websites that PageFreezer is archiving for you, making it easy to track your own webpages or those of your competitors.
The goal of all these features is to put more control into your hands. That's what PageFreezer is all about -- making website & social media records retention as simple and painless as possible, even in this age of information overload. The recent improvements we've made will continue to ensure that your digital records are not in "overload," but retained securely in an organized manner, so you can focus on more important things.