Governments and Archiving: "Can we afford it?"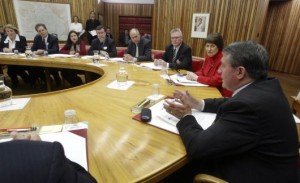 Because your agency's online content is increasing both in complexity and volume, and because governments are held accountable for the information they publish on the web, you need to employ a records retention policy.
So say the industry experts. But for local government leaders, it's hard to take the advice to heart when faced with a budget that barely allows room for a functioning emergency services department. The economic downturn of 2007 caused a ripple effect felt by nearly every municipal agency. Attempting to adjust city budgets in response to huge deficits, communities have
Considering these budget strains (and the stressed-out citizens attending the town hall meetings) how can agencies be expected to concern themselves with records retention? Is it that important? The answer is: yes. Your agency's online content (including social media, which more governments are now embracing) are considered to be public records -- and the responsibility to properly preserve those records cannot be underestimated.
Don't get caught without it!
Think of records retention for your agency as an investment like health insurance. Sometimes it's hard to justify that monthly expense, and you wonder if it's worth it -- until someone lands a $12,000 hospital bill for an appendectomy. You don't want to get caught without proper insurance to cover it.
Similarly, municipalities need to consider the potential costs of being caught unprepared in litigation or e-discovery proceedings. Consequences can include being made to pay attorney and litigation expenses, or being compelled to purchase e-discovery services (wouldn't it be better to do that at your discretion?)
If your agency is found to be negligent in handling online records, you could face expenses that exacerbate your everyday budget woes, not to mention an enormous legal headache and bad publicity. Just like you would make every effort to guard against the possibility of disaster by investing in health insurance, so should government invest in a web archiving policy against the possibility of a legal or regulatory investigation.
If you're going to do it -- do it right.
The 2006 changes to the Federal Rules of Civil Procedure indicate that all organizations (including governments) must be able to find, capture, and produce electronically stored information that might be relevant to a judicial or regulatory request. This can't be done with server backups, CMS revision control, or other outdated methods. You need a solution that can provide indisputable proof of your online records integrity and authenticity (as required by the Federal Rules of Evidence.)
Want to know how to do it right? Website and social media archiving is a good solution for e-discovery preparedness. PageFreezer's archiving technology uses web crawlers that capture all web pages (including social media). The pages are stored exactly as they are captured (including links, rich media, video, and Flash), which satisfies regulatory requirements for digital records. PageFreezer also provides a digital timestamp and signature for each archived page, ensuring data integrity and authenticity. With this SaaS solution (no tedious installation or software), governments can sign up and begin archiving in less than an hour.
But can we afford it??
As we've discussed, adopting a web archiving policy is essential. But it's not just for big cities or the federal government. PageFreezer's pricing is competitive so that even small towns can stay prepared. For instance, the City of DeLeon, TX recently signed up with PageFreezer as part of a Gov 2.0 Make-Over intending to show how any community can deploy technology in effective but affordable ways. The archiving policy was among the lower-priced innovations DeLeon adopted -- and the ROI is invaluable.
The Internet will only continue to grow in scale and complexity, and governments are increasingly interested in how it can be used for civic growth and development.The issue of records retention must be addressed from the start so that agencies can move forward confidently online.
Can your agency afford to start archiving and properly preserving your web records?
Can you afford NOT to?