Funnyman not laughing after Social Media Breach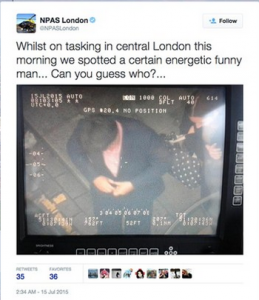 Law enforcement authorities in the UK are facing Tweet and Delete, Privacy and Data Protection controversies after placing a screenshot from their CCTV records on social media.
London's National Police Air Service (NPAS) tweeted the following content to their social media platform of 124k followers.
The screenshot from their official records, featuring comedian Michael McIntyre, contained GPS coordinates and the time and was tweeted along with the caption: "Whilst tasking in central London this morning we spotted a certain energetic funny man… Can you guess who?"
The Tweet was deleted shortly after, but did not go unnoticed by the public, privacy lobbyists or UK Camera Surveillance Commissioner Tony Porter.
Though the NPAS claimed they were not infringing upon any privacy laws and merely deemed it "inappropriate", this gives an example of the sometimes dangerous misuse of social media platforms by authoritative bodies with access to records of the public.
Without realising, we are constantly under surveillance, either visually or otherwise - but trust those in positions of power not to exploit such authority and disclose sensitive information needlessly. Placing information online and on social media without proper review, consideration or authorisation, can lead to legal compliance issues - not to mention jeopardising the privacy, safety and personal data of the individual in question.
When acts such as this occur, there is often the need for the ICO (Information Commissioner's Office) to intervene. Under the UK Surveillance code, images should only be used for their stated purpose, which for the police is to tackle crime and anti-social behaviour. Content of this nature placed on the internet should only be shared in the public interest - and still commonly protect the image of the accused by pixelating certain details.
We have increasingly seen that governing bodies and agencies in the UK lack in proper social media archiving procedures and compliance policies - with 94% of organisations not currently archiving social media.
In severe cases, this may lead to the ICO taking enforcement action, and it has yet to be seen if McIntyre will do so. This instance does, however, leave many unsettling questions unanswered; such as the secure archiving of information, the end use of content placed by bodies on social media, expectations of privacy and more.
"Access to data that is captured by surveillance should be restricted – disclosure should only take place when it is necessary for law enforcement purposes. Public disclosure of anyone's image for the purposes of fun is a clear breach of that," stated Surveillance Commissioner Tony Porter.